Event Start Date:
21. March 2023
Event End Date:
21. March 2023
Event Venue:

Lecture by:  Prof. Adrian Owen
Brain and Mind Institute,  The University of Western Ontario, Canada
"Using Functional Neuroimaging to Detect Awareness After Serious Brain Injury"
Tuesday, Oct. 7, 18.00-20.00
in The Norwegian Academy of Science And Letters / Det Norske Videnskaps-Akademi,
Drammensveien 78,    0271 Oslo.
---
Programme:
18.00 – 18.05   Opening by Nils Chr. Stenseth President of The Norwegian Academy of Science and Letters
18.05- 18.10   Introduction by Johan F. Storm, Neurophysiology, University of Oslo
18.10- 19.00   Lecture by Adrian Owen
19.10- 20.10   Panel discussion (A.Owen, M. Løvstad, O. Gjelsvik, JF Storm) and questions from the audience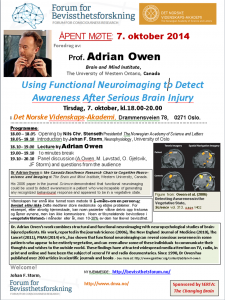 20131005_NY PLAKAT-NyLogo_OWEN-møte-DNVA 7 Oct_JFS
———————————————————————————————————————————————————————————————————————————————————————-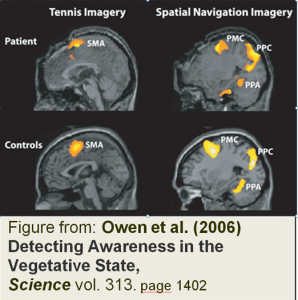 Dr Adrian Owen is the Canada Excellence Research Chair in Cognitive Neuro- science and Imaging at The Brain and Mind Institute, Western University, Canada.
His 2006 paper in the journal Science demonstrated that functional neuroimaging could be used to detect awareness in a patient who was incapable of generating any recognized behavioural response and appeared to be in a vegetative state.
Dr. Adrian Owen's work combines structural and functional neuroimaging with neuropsychological studies of brain-injured patients. His work, reported in the journals Science (2006), The New England Journal of Medicine (2010), The Lancet (2011), PNAS (2014) etc., has shown that functional neuroimaging can reveal conscious awareness in some patients who appear to be entirely vegetative, and can even allow some of these individuals to communicate their thoughts and wishes to the outside world. These findings have attracted widespread media attention on TV, radio, in print and online and have been the subject of several TV and radio documentaries. Since 1990, Dr Owen has published over 200 articles in scientific journals and books. – See more at: http://www.gairdner.org/content/adrian-m-Owen