Spørsmålet om vi har fri vilje, er et eldgammelt filosofisk problem som er nært beslektet med hjerne-bevissthets-problemet: "Fri vilje" og "bevisst vilje" betyr for mange nesten det samme. Dette spørsmålet er nylig  blitt aktualisert av ferske resultater fra hjerneforskning, og diskuteres i mange fora, også her til lands, bl.a.:
https://tv.nrk.no/serie/schrodingers-katt/DMPV73002215/17-12-2015
http://forskning.no/2015/12/har-vi-fri-vilje
http://www.nrk.no/viten/xl/mordere-har-ikke-noe-valg_-mener-forskere-1.12709180
https://radio.nrk.no/serie/ekko-hovedsending/MDSP25025215/18-12-2015#t=57m46s
Medias format gir imidlertid ofte for lite plass til motforestillinger og balansert, nyansert diskusjon.
Vi planlegger et møte om temaet "FRI VILE" i løpet av våren 2016, trolig i mars-april (tid og sted vil bli annonsert senere), med bl.a.: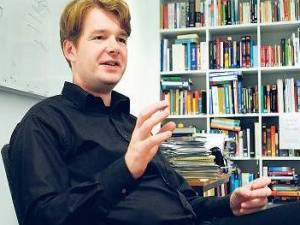 John-Dylan Haynes
Prof. Dr. rer. nat., Professor (W3) for Theory and Analysis of Large-Scale Brain Signals
Director of Berlin Center for Advanced Neuroimaging (BCAN), Charité – Universitätsmedizin Berlin
Bernstein Center for Computational Neuroscience,Berlin

Edmund
Henden,
professor i filosofi ved Høgskolen i Oslo og Akershus,
Øystein Elgarøy,
professor – Institutt for teoretisk astrofysikk, UiO, vil delta
——————————————————————————————————————————————————————————————–
Spørsmålet om fri vilje er også tema for programmet «Schrödingers katt» som sendes 17.12.2015 på NRK TV.
I den anledning har jeg skrevet en tekst som supplement til programmet. Den ble først skrevet som utkast til en «Ytring» på NRK.no etter forslag fra programskaperne bak «Schrödingers katt», men publiseres i stedet her:
Har vi fri vilje?
Av Johan F. Storm
 Ny hjerneforskning synes å vise at våre valg er forutbestemt av hjerneprosesser uten at vi vet det selv. Er dette sensasjonelle funn som forandrer alt? Er fri vilje bare er en illusjon? Er vi ikke ansvarlige for våre valg og handlinger? Eller er dette forhastede feilslutninger? Dette debatteres i flere fora og er tema for NRKs Shrödingers katt 17.desember*. Jeg vil hevde at man kan svare både ja og nei på spørsmålet om vi har fri vilje – avhengig av hva man mener med disse ordene. Disse spørsmålene må belyses fra flere sider for å kunne gi dekkende svar.    
Resten av teksten finnes her:   20151217_FRI VILJE – Bevissthetsforum_Suppl. Schrödingers katt_JFS13
Resten av teksten finnes her:   20151217_FRI VILJE – Bevissthetsforum_Suppl. Schrödingers katt_JFS13