Event Start Date:
17. February 2022
Event End Date:
17. February 2022
Event Venue: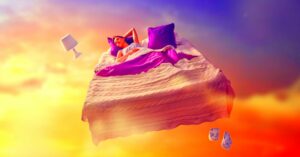 The nature of dreams is a topic that has been discussed for as long as humans could talk. But we are not the only species that dream. Research suggest that most mammals and birds dream. But why? A recent hypothesis is that the brain uses dreams as a way to generalize our models of the world.
Erik Hoel, Phd, is a Research Assistant Professor at Tufts University, Massachussets, USA.  He is a neuroscientist and neurophilosopher who studies consciousness, cognition, the biological function of dreams, as well mathematical  theories of emergence. He is noted for using information theory and causality analysis to develop mathematical models in a way to better explore and understand the basis of consciousness and dreaming.
Video of the lecture:
About the event:
We welcome you to a public lecture by Erik Hoel:
"The Overfitted Brain Hypothesis: Dreaming As Data Augmentation".
The event will be online, and to receive a link to the webinar, please register using this link.
In addition, immediately following this public lecture, Erik Hoel will join as a panellist in an event hosted by the Forum For Consciousness Research, and the Conscious Brain Concepts consortium:
"What are dreams and why do we have them?". 
The panel discussion will start at 20.10, and last until 22.00. For more information, and to register, please follow this link.